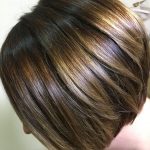 When it comes to hair, we do it all and we do it well: long hair, short hair, colored, natural, extensions and everything in between. 
A few tips to help you get the hair style you want:
Put yourself in the hands of a trusted expert – the best way to get the look you want is to go to someone talented.
Be Open to Suggestions – We have the training and experience to know what hair styles will look best on you, and will explain how they fit your needs.  
Communication is Key – We want you to understand and be comfortable with what to expect from the service.  Ask questions if you don't understand something.  Don't forget to let us know if you have any hair concerns.
A Picture is Worth a Thousand Words – Bring in images of styles you like, but remember that each picture should be of a woman with a face shape and hair texture similar to your own.
Cut, Wash & Style
All haircuts are scheduled in 45-minute to one hour blocks of time. Please note that some hair types require additional time, such as thicker, longer or more textured. A Sheek Salon haircut begins with an expert customized consultation and, a stress reliving scalp massage wash and a precision cut.
Color
What's your style? Brilliant colors or more subtle highlights? You'll be able to find your color here.
Smoothing Treatments
Tired of the frizz? Our stylists will give you the sleek look you desire. Smoothing treatments vary by stylist and method used, but the result will be the same – you'll feel and look great!
Extensions
Want a quick change of look? Extensions are a way that you can change your style immediately. You'll be hooked!
Threading
This hair removal technique can be used to remove facial as well as body hair. Unlike waxing, threading does not involve pulling or stretching the skin. Also, because it removes hair by the follicle, threading is a reasonably long lasting hair removal technique. Repeat visits after two to four weeks are standard. For women who would like to pursue a more natural beauty regimen, threading is a good choice, since it does not involve harmful products or artificial chemicals.  Threading can be used for eyebrow shaping.
Bridal & Special Occasions
If you've got a big event coming up and you want to look spectacular, Sheek Salon is here for you.
Talk to us about what you want for your special event (wedding, reunions, etc.) and we will be with you every step of the way. Formal uptwists, romantic curls, or on-trend styles are all within our range of expertise. We pride ourselves on staying current on wedding trends and special occasion styling ideas to make sure you look and feel absolutely stunning.
Not only are we trained for gorgeous hair styles, but we also offer make-up artistry, including South Asian and Arabic styles, to deliver a complete and cohesive look to match the occasion.
There are a range of other services that we can offer you at Sheek Salon, from Up-dos and bang trims, to full scalp treatments – we will be able to help!